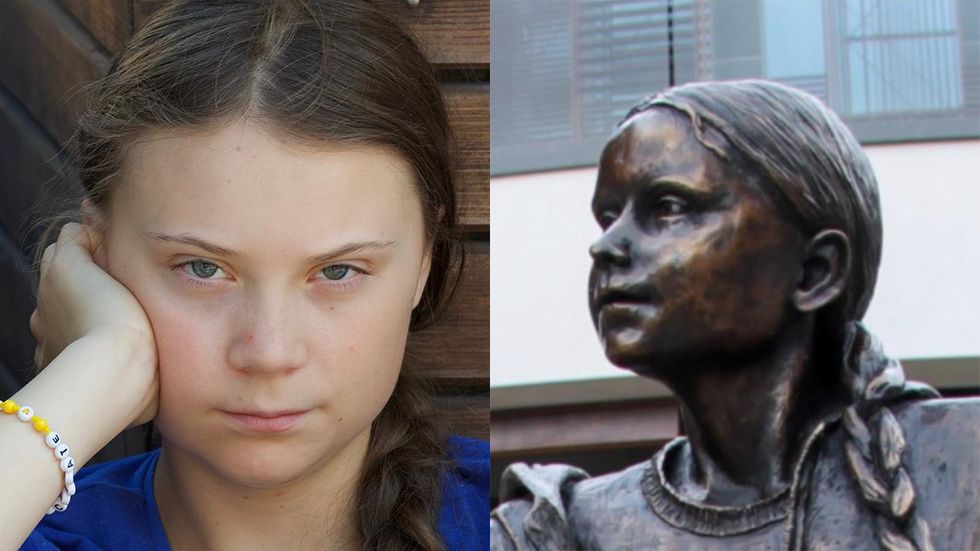 Not since the Fearless Girl Statue has there been a more accurate monument to faux activism. "Fearless Girl" was created so that while feminists and other leftists were celebrating meaningless gestures and a shiny object, the company behind it was laughing at them. A British university has installed a false idol of its own. They needed something the encapsulates everything they're told to believe. There's only one icon that can pull off such a feat. So they installed a bronze sculpture of legendary political activist Greta Thunberg.
Yes, the kid. While not the first monument to Gretaism, it's easily the cringiest.
When we last saw Greta, she was being shamed on MSNBC for not actually knowing what she was talking about. Bollocks to that says the University of Winchester. She's everything the students — the alleged university students who are of typical university age — strive to be.
Titled Make a Difference, the sculpture is believed to be the world's first life-size sculpture of the young Swedish climate change activist and is a symbol of the University's ongoing commitment to sustainability and social justice.
The way the university decides on what art to purchase or commission is to ask themselves, "Selves, what pieces embody our distinctiveness and values?" They settled on a bronze statue of ... Greta Thunberg. This leads me to believe their values include exploiting children to promote your political agenda. Shockingly, this is a college in Europe and NOT one in America. I'm actually surprised there isn't a monument to David Hogg on an American campus yet. Emphasis on yet. There's most likely one being commissioned right now ... by David Hogg.
Greta is a young woman who, in spite of difficulties in her life, has become a world leading environmental activist. As the University for sustainability and social justice we are proud to honour this inspirational woman in this way.
Yes, her difficulties in life EXACERBATED BY GROWN-ASS ADULTS EXPLOITING HER FOR THEIR POLITICAL AGENDA. This is like the Nike School of Acceptance putting a statue of a nine-year-old child laborer outside their economic pavilion to symbolize their business model. Or, since it's Nike, an actual nine-year-old so that they don't have to stop working on the new Yeezys.
Greta Thunberg is a "world leader" because adults who should know better are putting her out there to promote their agenda for them. That way if you disagree with the agenda, they can say their opponents are picking on the child, and therefore anyone else who also disagrees with the agenda also picks on children. Doesn't make any logical sense, but these are leftist social activists.

March 31, 2021 at 01:57PM - Brodigan
UK College Erects Bronze Statue Celebrating Social Justice Pioneer: Greta Thunberg
Click the headline to read the full report at Louder With Crowder