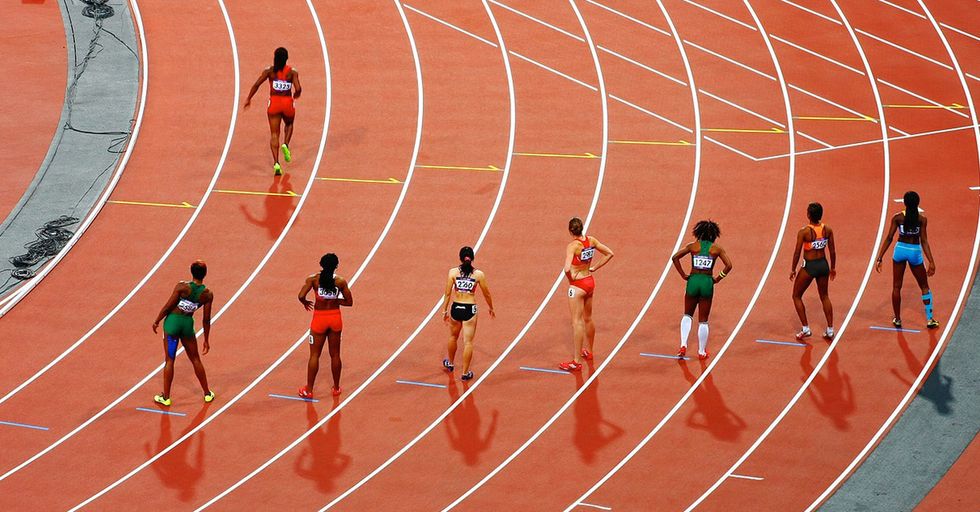 Meanwhile in Connecticut, he-ladies just got told they can't cheat by embodying gross stereotypes and trouncing all over girls' rights. That's because finally a government entity did a good thing. The U.S. Education Department's Office for Civil Rights has finally ruled that forcing girls to compete with ugly dudes is a violation of Title IX. Let's hear it for the girls!
The office said in a 45-page letter that it may seek to withhold federal funding over the policy, which allows transgender athletes to participate as the gender with which they identify. It said the policy is a violation of Title IX, the federal civil rights law that guarantees equal education opportunities for women, including in athletics.
Meaning dudes who can't compete with guys can't rake up the trophies and medals by taking them from girls. If you can't hack it with the boys, don't pretend to hack it off and go prance about with the girls.
Girls' athletics are for girls to compete athletically. More than a few guys like to point and laugh while mocking girls who play sports. But those girls who play sports aren't playing for men. They're playing to play. They're competing to compete. Anyone who has entered a competition knows the highs and lows that come with competition and how invigorating and challenging it can be. Girls have every right to grow, become better, learn from their failures, and push harder as guys do. But they should be allowed to compete against their own, so they can chase the possibility of victory.
If a woman has to compete against a man, she knows she will lose. And that's. Not. Fair.
The Office for Civil Rights ruling names the CIAC and school districts the transgender runners and those filing the complaint competed — Glastonbury, Bloomfield, Hartford, Cromwell, Canton, and Danbury.

The office said it will "either initiate administrative proceedings to suspend, terminate, or refuse to grant or continue and defer financial assistance" to the CIAC and those districts or refer the cases to the U.S. Department of Justice.
Well that just makes me happy.
If you're a confused dude who thinks he's a dame, I'm sorry, but that doesn't mean you get to take something you don't deserve just because you feel a certain way. If you do feel you're owed something just because you're a man who feels like I lady, then maybe "male privilege" is real after all.
Here's hoping the lady athletes who brought the suit will succeed in having the he-ladies records erased from girls' sports. After all, as the adage goes "cheaters never prosper." Or at least they shouldn't.

May 28, 2020 at 06:54PM - Courtney Kirchoff
JUSTICE! Connecticut's Transgender Competing with Girls Policy Gets Snipped!
Click the headline to read the full report at Louder With Crowder