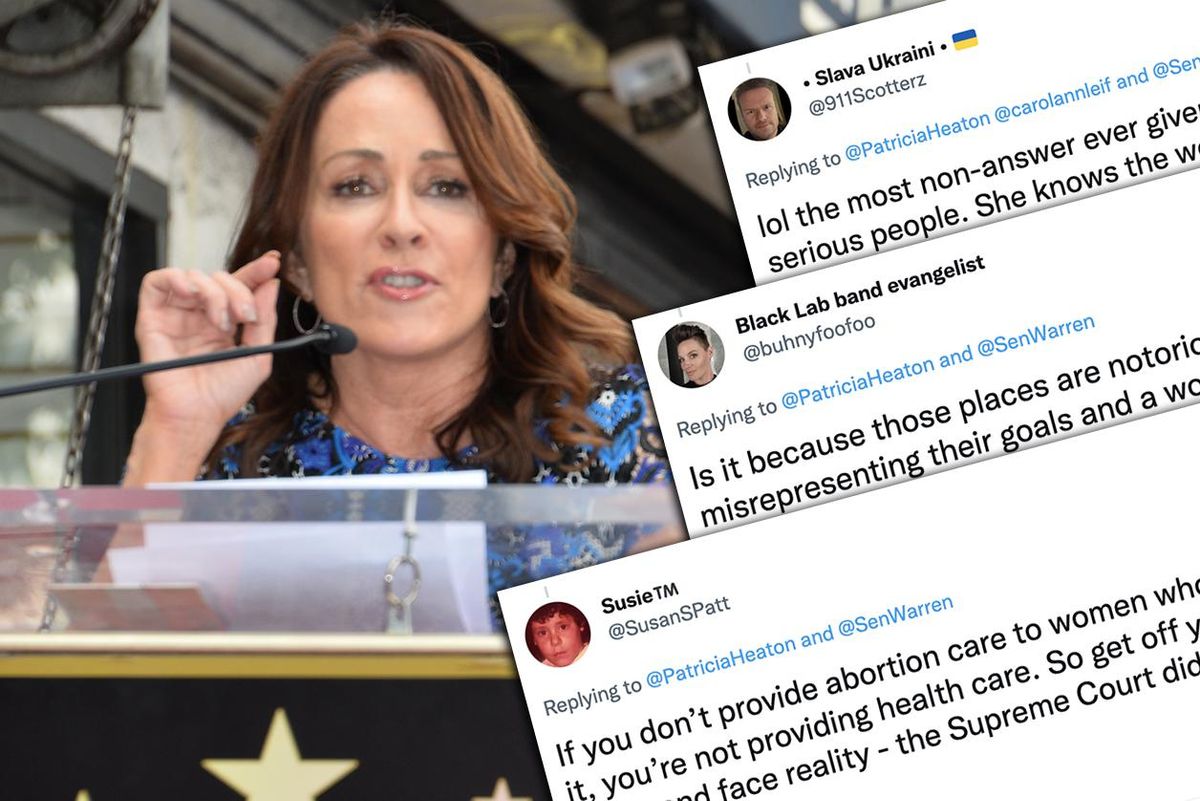 Quick recap. Crisis pregnancy centers provide an alternative to abortion. Pro-abortion radicals like Elizabeth Warren think there should be no abortion alternatives, and critics say she signaled to her stans to keep attacking crisis centers by introducing legislation attacking them. Patricia Heaton works with a crisis pregnancy center and took exception, so Warren stans came after her.
If finding common ground was a goal, you would think someone like Heaton is someone with whom you could find it. She has always been pro-life but isn't exactly throwing Bibles at people. She just provides an abortion alternative in California, a state where abortions are plentiful. But Liz Warren's stans are misinformed and ignorant about abortion, the Supreme Court, and the constitution. So Heaton spent the day fact-checking them.
In Black Lab's defense, when you get your news from Twitter and CNN, you can't be expected to know about the horrors of (some) abortion clinics.
Julie hid her tweet. Judging by Heaton's response, I'm guessing Julie supports abortion "health" and thinks "men" can get pregnant, too.
Hi Julie, as with all our clients, we prioritize their health and they would get the appropriate treatment. No need to try and denigrate our clinic by putting the word in quotes. https://t.co/n7BSLs5C5n
— Patricia Heaton (@PatriciaHeaton) June 29, 2022
Susie only thinks you provide healthcare if you provide the healthcare she supports. Which is abortion. Heaton's broader point about Planned Parenthood is lost on Susie, as is that it wasn't the Supreme Court that put crisis centers at risk. It was the rhetoric of people like Elizabeth Warren and others in her party.
Hello Susie - PP provides no pre or postnatal care for women - do you demand the same of them? Should they provide free ultrasounds, diapers, medical care for pregnant women who want to keep their babies? https://t.co/nUjYZx0nqF
— Patricia Heaton (@PatriciaHeaton) June 29, 2022
This is all to illustrate that it's not pro-choice. It's pro-abortion. When the only choice you support is abortion, and you don't support clinics' choice to not provide abortion, you are pro-aborting children (to borrow from President Joe Biden).
Thank God for people like Patricia Heaton who are brave enough to stand up and speak out. Not many in the entertainment industry have the courage to do so.
The Louder with Crowder Dot Com Website is on Instagram now! Follow us at @lwcnewswire and tell a friend!

June 30, 2022 at 12:40PM - Brodigan
Haters Come After Pro-Life Actress Patricia Heaton and She Swats Them Down One By One
Click the headline to read the full report at Louder With Crowder