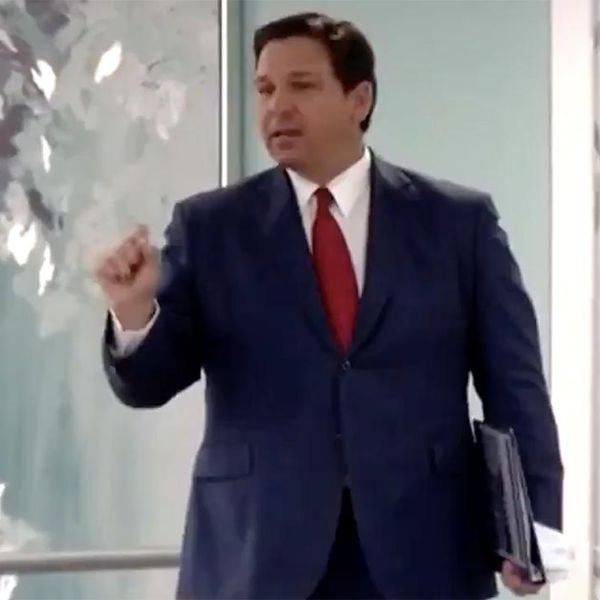 Ron DeSantis has been an interesting governor to watch during the pandemic. Far be it from me to make too many claims about his record. The governor can fight that out with the media on his own. Three guesses which side the "fact" "checkers" from Facebook will side with. But scroll through social media. I'm guessing you'll find people enjoying freedoms other states allegedly don't have right now. More safely than in other states too.
But what about the vaccine? Some elected officials are rushing to get theirs, regardless of how much they are at risk of actually getting the coronavirus. Though, it makes for good content on the 'Gram to be there with a mask and a needle in your arm. As someone who hustles content for a living, game kinda respects game. Others feel people most vulnerable to get and die from the virus should be vaccinated first. to prevent the getting sick and dying thing. Rep. Tulsi Gabbard has been speaking out. A reporter asked DeSantis when he would get all vaxxed up. His response, in my humble opinion, is perfect.
Florida Gov. Ron DeSantis is asked if he has taken the vaccine:

"I'm willing to take it but I'm not the priority... Granted I'm an elected official but whoop dee doo. At the end of the day, let's focus on where the risk is."pic.twitter.com/2zucGYIQUu
— Daily Caller (@DailyCaller) December 30, 2020
More importantly than any health questions, excellent use of "whoop dee doo." Also, the governor of Florida being the same age as me is a fact I don't have the strength for right now. One of us is the chief executive of one of the largest states in the nation. The other is wearing a bathrobe at 2:30 on a Wednesday afternoon. Life isn't fair. But our mutual age puts me in the same boat. I'm not rushing out to get the vaccine either, because I'm not at risk. Plenty of other people who are should go first, for the greater good and all that. Elected officials under the age of, say, sixty-five or so? Personally, it sends a stronger message for them NOT to get the vaccine because it's more important for others. Kudos to DeSantis for thinking so.
Also, when it's my turn, that's between me and my doctor. Unless you want to start seeing Snapchats of my annual proctology exam, you don't need to see me getting a shot

December 30, 2020 at 01:59PM - Brodigan
Media Challenges Gov. Ron DeSantis to Take Vaccine, He Responds Perfectly
Click the headline to read the full report at Louder With Crowder