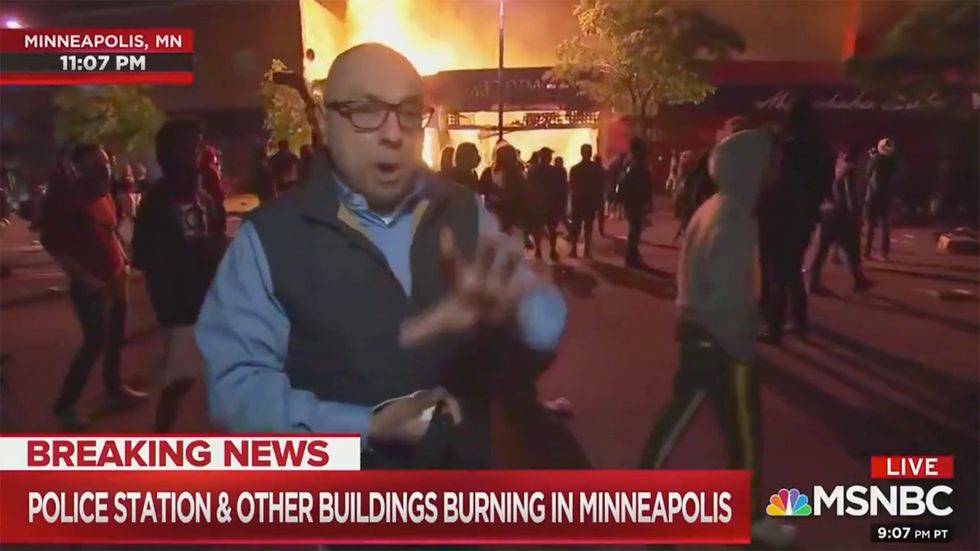 George Floyd was murdered. The cops responsible need to be held responsible. My virtue has been signaled (see RIOTERS BURNED DOWN A MINNEAPOLIS POLICE STATION, POLICE FLEE and ARMED PATRIOTS WANT JUSTICE FOR GEORGE FLOYD, DON'T WANT LOOTING. HERE'S WHAT THEY'RE DOING ABOUT IT...). Okay? Okay. Now let's laugh at this idiot from MSNBC, who did his best Chip Diller impersonation, claiming that all is well while his surroundings say otherwise.
MSNBC reporter just now: "I want to be clear on how I characterize this. This is mostly a protest. It is not generally speaking unruly."

The guy is literally standing in front of a burning building in the middle of a riot. pic.twitter.com/IzCV6On4sF
— Caleb Hull (@CalebJHull) May 29, 2020
There may be more context to this 12-second clip. But to be honest, it's MSNBC and I don't care. The visual says it all, because journos have been tripping over themselves explaining why they aren't calling this riot a riot and how it's just a protest. Before showing us nothing but IMAGES OF A F*CKING RIOT!!! Seriously, how stupid does cable news think we are? If the riot is only a small part of the protests, show us images of that. Show us the images of white people and black people, men and women, Vikings fans and Packers fans, all holding hands and singing the Youngbloods' "Get Together." Or at least a Prince song, since you're in Minneapolis.
If the riot is a mostly peaceful protest, then the visual of a mostly peaceful protest should be easy to find. Hell, if Baldy McGlasses from MSNBC thinks that he's currently in a peaceful protest, walk up to some of the peaceful protesters behind you. Ask them to "say his name." See how many know what it is.

May 29, 2020 at 12:29PM - Brodigan
MSNBC Claims #MinnesotaRiot is Mostly Peaceful While Standing In Front of a Burning Building
Click the headline to read the full report at Louder With Crowder