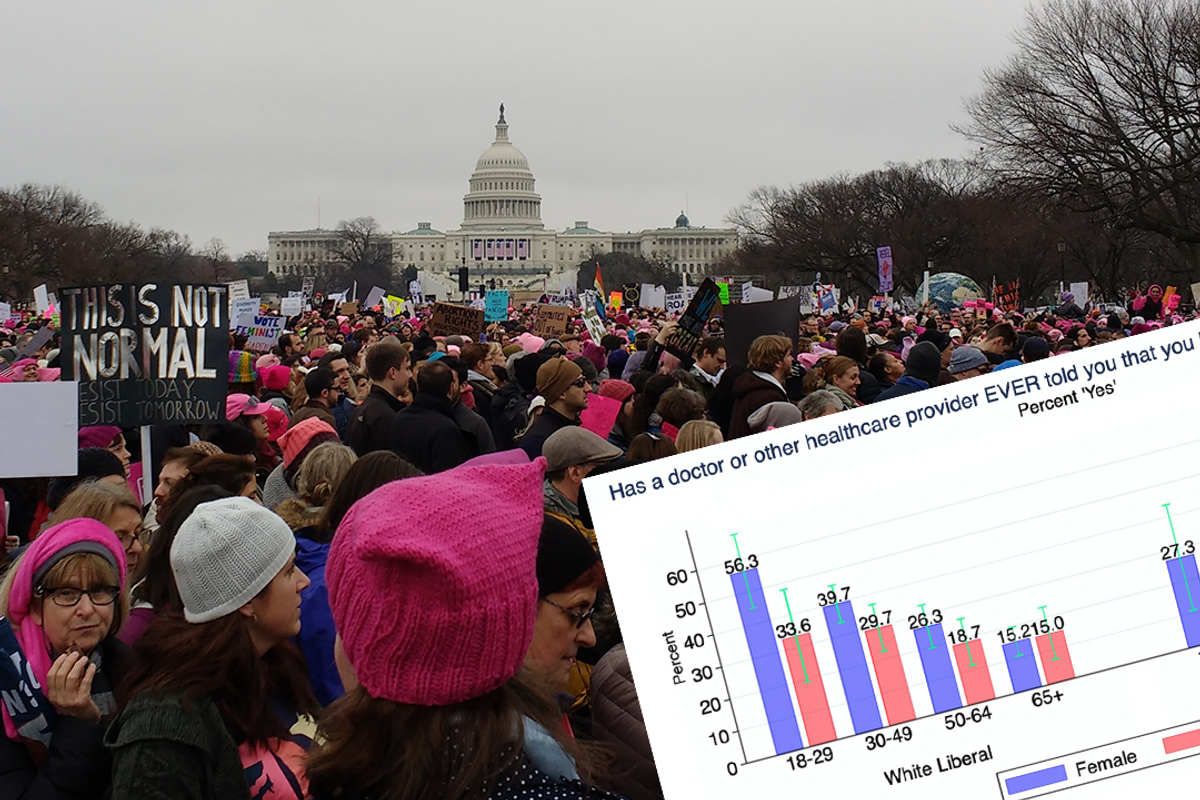 The state of American women is bad. Very, very bad. Which I think we all already knew, but now we have numbers to back it up - so we can "trust the science." Hooray.
Pew Research found that 56% of liberal white women have been diagnosed by a doctor with a mental health condition, compared to just 27% of their conservative counterparts. Conservative women and men had lower rates of mental illness in every single age category across the board.
I know we are all shocked to hear that women who advocate for the murder of their own children might have something going on upstairs. But this is a concerning trend seen in particular amongst my very own Zoomer generation. A recent CDC study found 57% of U.S. teen girls felt persistently sad or hopeless in 2021, and 30% of teen girls seriously considered attempting suicide.
None

— (@)
It's almost as if telling young girls to hookup with random guys, take birth control, abort their babies, focus on their careers until they're thirty or so, strip all sense of meaning and purpose from life , and completely eliminate religion negatively impacts mental health. Who woulda thunk it.
But seriously, I do think the feminist agenda is the most likely cause of such staggering rates of depression among women, alongside the isolation of lockdowns and virtual school/work/everything. Surveys show the happiest women are married, religious conservatives. As a woman myself (and a biological one at that), I can testify that it is not natural for women to follow the femi-nazi path. It goes against every inherent female instinct. And it makes you miserable.
To my fellow young ladies, if you're considering the feminist path, please take this all into account. It's unlikely that any career or amount of money will completely fulfill you, particularly if it comes at the cost of a family.
March 21, 2023 at 09:40AM - Lily Hayes
New Survey Shows Over Half Of Young Liberal White Women Have A Mental Illness And We Have An Idea As To Why
Click the headline to read the full report at
Louder With Crowder