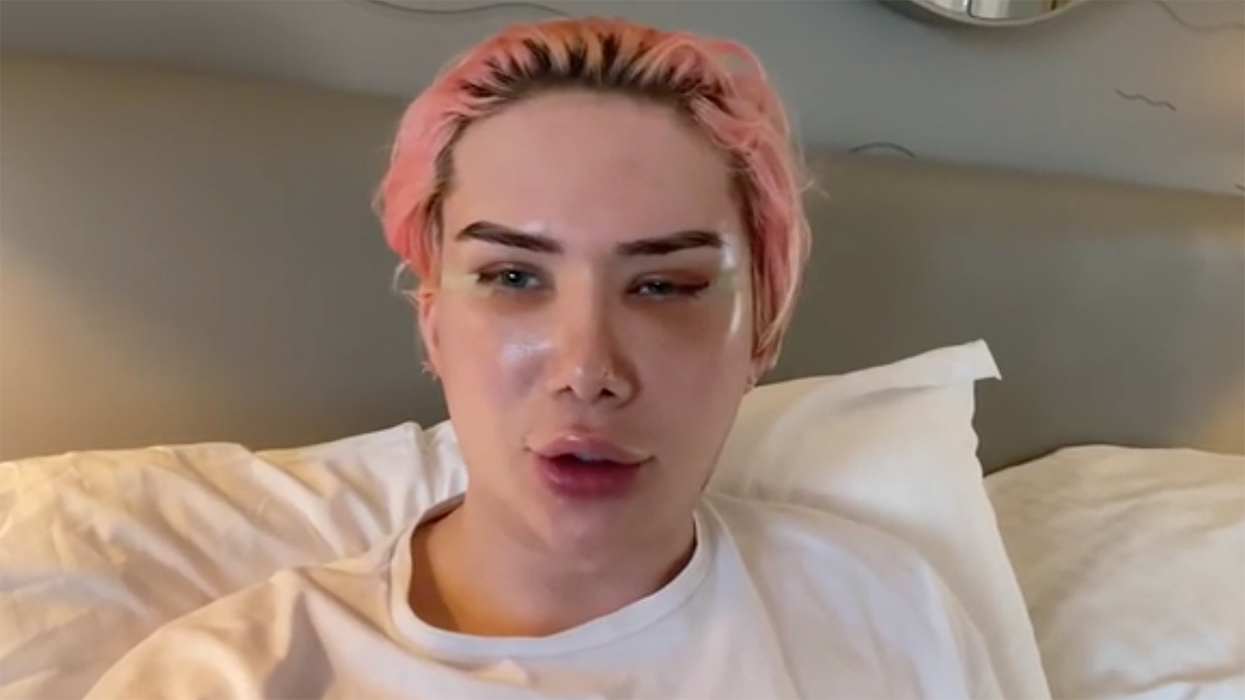 Oli London is a British influencer. I'd be lying if I said I knew what exactly that means or what Oli influences. To this day, I refuse to acknowledge "influencers" as real people. Whatever Oli influenced before, they're now coming out as a proud member of the transracial community. It's a little like the transgender community. Only instead of being born in the wrong gender, you're born in the wrong ... race. It's a real thing and totally not a mental disorder and a desperate cry for help.
There's even realignment surgery to turn you into the ... race ... you feel you actually are inside. Let Oli, or I guess they're Jimin now, tell their story.
I've finally had the courage. I've undergone my racial — I can't think of the word — transitional surgery. I've transitioned to a non-binary person — they/them, Korean/Jimin and I finally have the Korean look, so I'm actually really happy.
Facebook has rules about what we can and can't say about marginalized groups. If they didn't, I might be inclined to add a Bugs Bunny .gif of him holding up a picture of a screw and a picture of a ball. Or Eric cartman holding up a picture of a jack and a picture of an ass. But Facebook has those rules, so I won't do that.
I can guess one of the first questions coming to your mind right now. You'll be happy to know Jimin has an answer.
Being Transexual is the same as being TRANSRACIAL because you are born in the wrong body.
— Oli London (@OliLondonTV) June 28, 2021
Being Transexual is the same as being TRANSRACIAL because you are born in the wrong body.
Hopefully, other transracial people like Justin Trudeau and Joy Behar can find the same courage as Oli did.
Here's my big question. I know a lot of my colleagues on the right are asking how, logically speaking, claiming you're transracial is any different from claiming you're transgender. What I want to know is ... how soon before leftists are asking the same question? The way I see it, we are five years away from transracial people knocking transgender people off the #1 spot of the left's pound-for-pound most marginalized rankings. Scientists are going to change "the science." The cancel culture mob is going to be demanding apologies from what the "closed-minded" among us in 2021 had to say. Elliot Page is going to say he's a black man and you're racist if you say otherwise.
My biggest concern for Jimin is what they're going to do when BTS becomes of legal age and Jimin is forced to acknowledge that K-pop has always sucked. Maybe by then he'll be able to transition back to being a Brit.
Looking for a fashionable way to support Louder with Crowder? Get your swag at Crowdershop today!

June 29, 2021 at 08:28AM - Brodigan
White Influencer Receives Realignment Surgery to Turn Him ... Korean, and I Have Questions
Click the headline to read the full report at Louder With Crowder