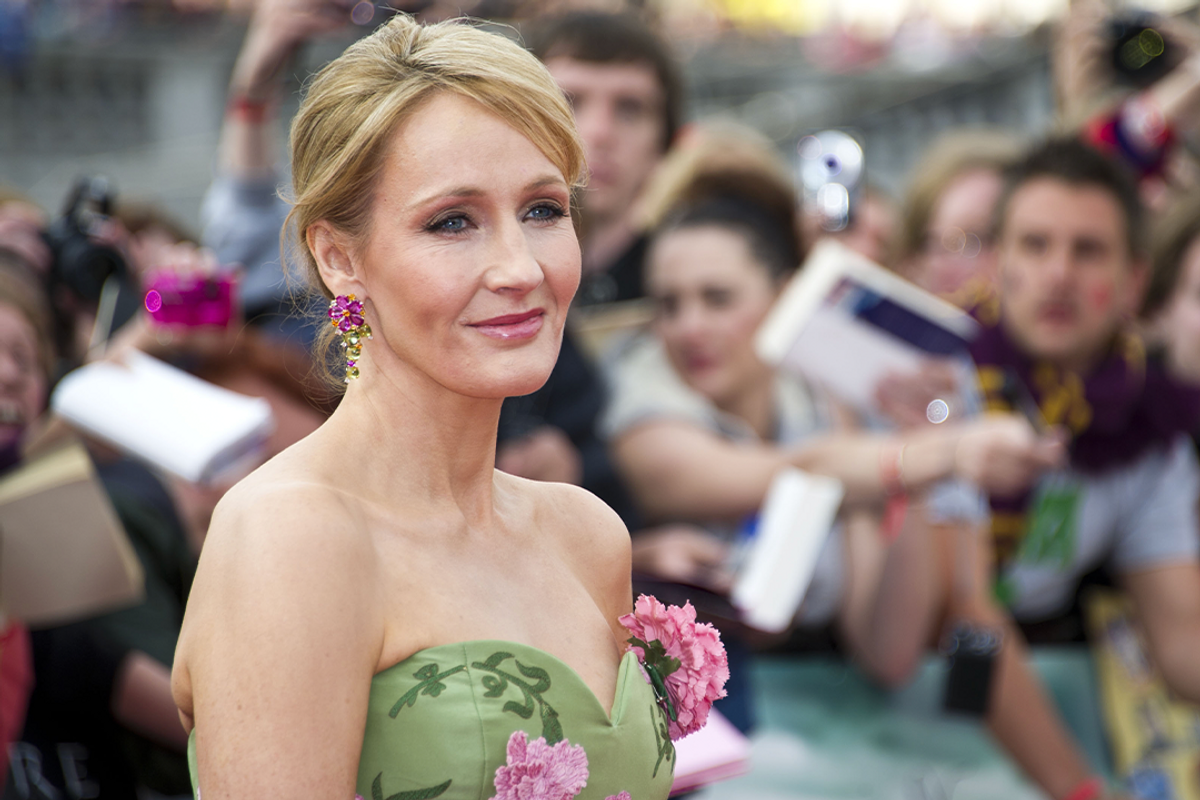 Everyone knows J.K. Rowling is a notorious woman-hater. Today, we can add another anti-feminist misdeed to Rowling's rap sheet. After Biden's unceremonious exit from Afghanistan, Rowling secretly donated hundreds of thousands of pounds to... rescue female lawyers and their families from the Taliban.
\u201cJK Rowling secretly magicked up hundreds of thousands of pounds to save 100 female lawyers and their families facing murder in Afghanistan https://t.co/788seexUWv\u201d

— Daily Mail Online (@Daily Mail Online) 1674884477
Baroness Kennedy, director of the Institute of Human Rights for the International Bar Association, told Daily Mail, "In the August of that year, when there was the military evacuation from Afghanistan, I started receiving desperate phone calls from women judges hiding in their basements. Taliban had been released from prison and were making threats and coming after these women, some of whom had jailed them for domestic violence and other crimes." I'm guessing Joe Biden's phone was set to silent at this point.
Philanthropist Lord Michael Hintze contributed nearly one million pounds to the efforts. His and Rowling's donations, plus a few others, were able to fly approximately 500 at-risk Afghans out of the country.
This all came to light during a House of Lords debate when Lord Alton told the chamber about the operation. He said because of the "spontaneous, generous, and very substantial" donations" "some 500 people were evacuated - 103 were women lawyers, all of whom, with their children and husbands, were on Taliban kill lists."

He went on to mention Rowling by name, saying, "I have met some of the women judges and know that the noble Lord's intervention, and that of the author JK Rowling, undoubtedly saved many lives."
This isn't the first time Rowling has let revealed her misogyny to the world. Last year, she sparked massive controversy when she tweeted that laws allowing men into women's prisons are anti-woman. The nerve on this broad.
\u201c\u201cLaws that allow males into women\u2019s prisons are anti-progressive and anti-women\u2026 If you self-identify as a progressive or a liberal, this is an issue you should care about deeply, because women\u2014right now\u2014are being hurt.\u201d \u2014 Elizabeth Hummel https://t.co/S2DUx2Rm3u\u201d

— J.K. Rowling (@J.K. Rowling) 1663859057
More recently, she funded a woman-only rape center in Scotland. Despite the need to keep women who have been victimized by men separate from men, a "woman-only" center is far too exclusionary and transphobic. Probably racist too. I don't know how the rules work. Just trying to cover all the bases.
Editor's Note
LwC is on Substack now! Each day we overwhelm your brains with the content you've come to love from the Louder with Crowder Dot Com website.. but algorithms hide our ranting and raving as best they can. The best way to stick it to Big Tech? Subscribe to For the Content!

January 31, 2023 at 04:19PM - Lily Hayes
Alleged hater JK Rowling puts money where mouth is, has been helping Afghan women escape certain death this entire time
Click the headline to read the full report at Louder With Crowder