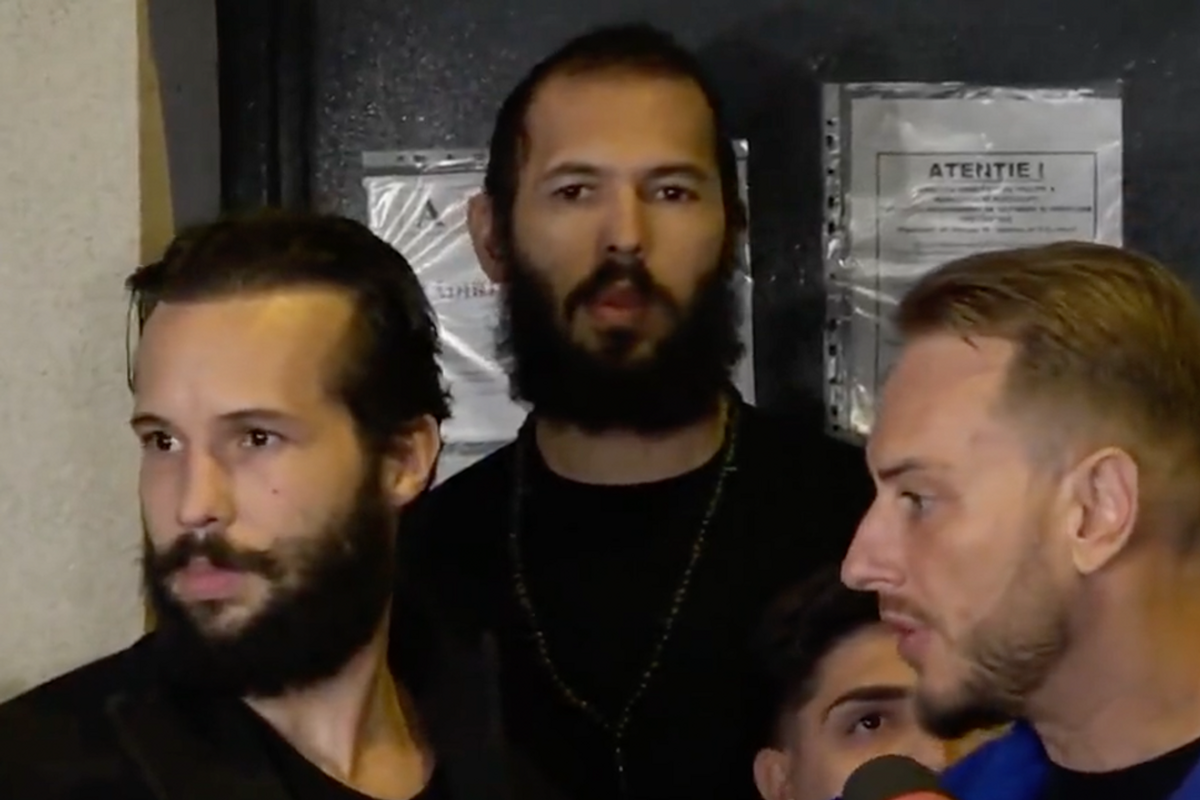 After a long three months or so, Top G Andrew Tate has been released to house arrest from a jail in Bucharest. As a refresher, Tate and his brother, as well as two Romanian women, were arrested back in December on suspicion of human trafficking, rape, and crime gang offenses.
Tate has maintained his innocence the entire time, updating his Twitter audience while apparently in solitary confinement. I wasn't aware they allowed you to have your phone in solitary, but I guess that's how they do it in the modern age.
\u201cBREAKING: Andrew Tate and his brother Tristan released from jail and put under house arrest, spokesperson says\n\nRead more here: https://t.co/f1r09dQAgW\n\n\ud83d\udcfa Sky 501, Virgin 602, Freeview 233 and YouTube\u201d

— Sky News (@Sky News) 1680288697
Earlier this month, the four appeared at a bail hearing and their bail applications were rejected. However, they appealed the decision, and the appeals court overturned it today. All four will be placed under house arrest as the investigation continues. None have been formally charged yet.
Just before the news broke, Tate tweeted, "In the end, we will remember not the words of our enemies, but the silence of our friends."
\u201c\u201cIn the end, we will remember not the words of our enemies, \n\nbut the silence of our friends.\u201d\u201d

— Andrew Tate (@Andrew Tate) 1680263119
Back in February, wiretaps that purportedly proved Tate and his brother were framed began circulating on social media. According to the alleged wiretaps, the women who accused Tate planned on setting him and his brother up by pretending to be in love with them, and planned to play dumb if they were caught in a police raid.
\u201c\u201cIt means the boys are going to be freed\u201d: Twitter erupts as Andrew Tate framed claim emerges amid wiretap leaks https://t.co/IyNVHKpPFM\u201d

— SK POP (@SK POP) 1676484244
Whether Tate and his brother were framed for this specific allegation remains to be seen. Regardless, it does seem that Tate was running some type of brothel in Romania. His own website used to describe his business model, which is...questionable, to say the least.
"I've been running a webcam studio for nearly a decade, I've had over 75 girls work for me, and my business model is different than 99% of webcam studio owners. Over 50% of my employees were actually my girlfriend at the time and, of all my girlfriends, NONE were in the adult entertainment industry before they met me."
"Literally, that was my job. My job was to meet a girl, go on a few dates, sleep with her, test if she's quality, get her to fall in love with me to where she'd do anything I say, and then get her on webcam so we could become rich together."
\u201cAndrew Tate\u2019s website was straight up just like \u201cWhy am I an expert in this? Because I am a successful sex trafficker\u201d\u201d

— worms cited (@worms cited) 1672378588
Now, I'm no legal expert but that sounds...bad. I guess we'll just have to wait and let the courts decide if the Top G will be freed permanently.
><><><><><><
Lily is a Zoomer college dropout who somehow landed a writing gig here at LwC.com. In her spare time, she enjoys going for runs, touching grass, and occasionally tweeting tweets for fellow tweeters.
Facebook doesn't want you reading this post or any others lately. Their algorithm hides our stories and shenanigans as best it can. The best way to stick it to Zuckerface? Bookmark LouderWithCrowder.com and check us out throughout the day! Also, follow us on Instagram and Twitter.
March 31, 2023 at 04:48PM - Lily Hayes
Andrew Tate and his brother get released to house arrest after spending months in a Romanian jail
Click the headline to read the full report at
Louder With Crowder