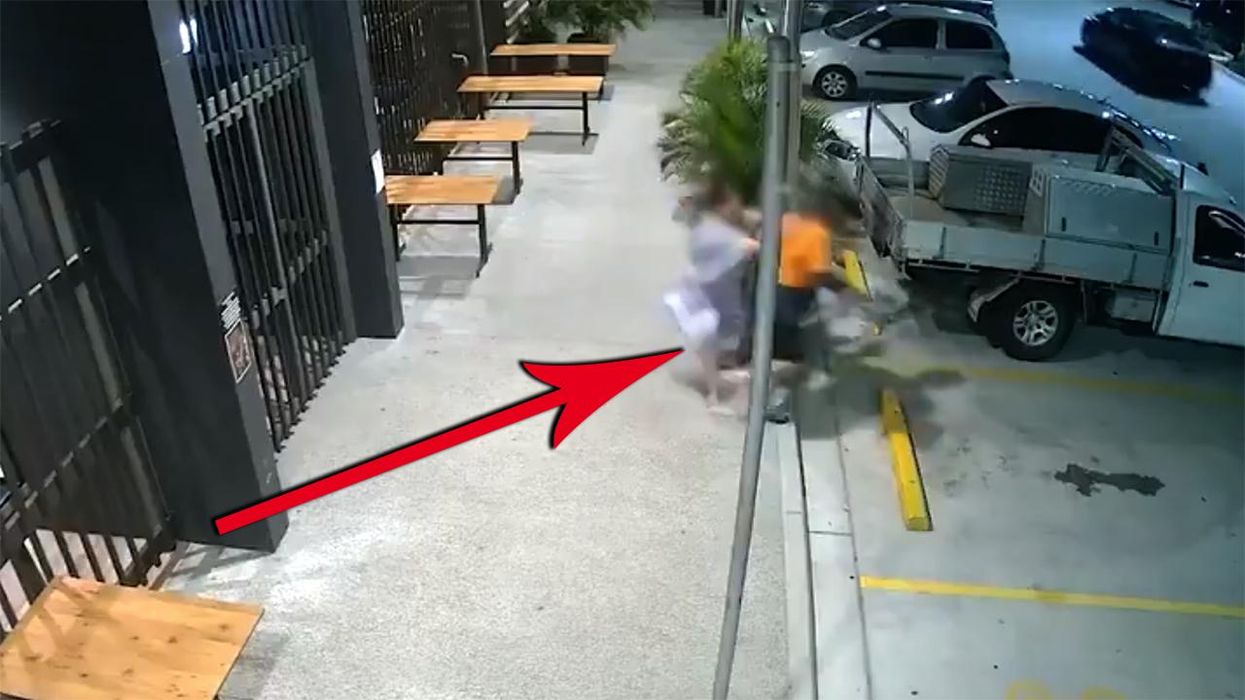 This is the feel-good video you need to get you through the weekend. It will always be rewarding to see an elderly person drop a younger nogoodnik. It's extra rewarding when it's someone's grandma. Pop-pops always let you know there's still enough gas in the tank to kick your ass. Memaws exist for huggies and snuggies. But occasionally, an old broad's gotta take matters into her own hands. As happened here, when a purse-snatching thug messed with the wrong nana.
They rolled out of view of the security camera. So I'm not entirely sure how the world's worst mugger managed to get the shirt beat out of him. We just saw the grandma get up of her own accord, grab her purse, and walk off. Probably muttering the words "punk-ass little bitch" as she went about her way. As the thug ... got in his car and drove away? This jackwagon actually PARKED HIS CAR under a street light to surveil old ladies walking by themselves. Got his ass whupped by an old broad. Then drove away in clear view of a security camera. Because again, he parked his getaway car under a street light. if you could harness this nimrod's stupidity, you could probably cure the coronavirus.
I don't even want to see him caught. Once this video goes viral, the embarrassment will be punishment enough. Our dude will be the laughingstock of all the neighborhood thugs, punks, and street toughs. Forever walking the underworld known only by his new nickname: Granny's Bitch.

February 26, 2021 at 06:58AM - Brodigan
Grandma TAKES DOWN a Purse-Snatching Thug, Leaving Him Shirtless
Click the headline to read the full report at Louder With Crowder