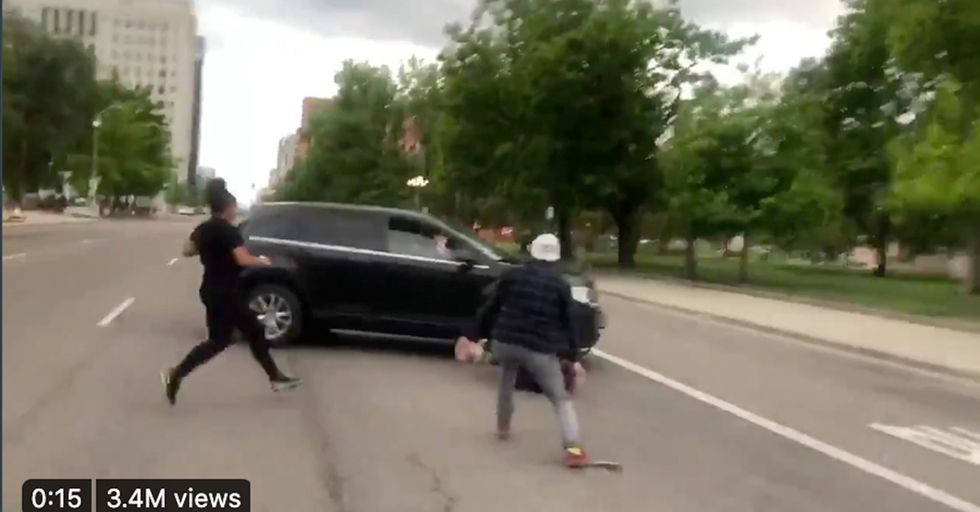 In downtown Denver, Colorado, protesters were rioting in the streets over the George Floyd killing. That happened in Minneapolis. We'll discuss that one later. One such rioter who wasn't so much protesting as he was being a neanderthal, jumped on a woman's car in a manner that wasn't chivalrous. How naughty of him. She hit the gas to get away. Then decided that wasn't enough. Behold:
Repeat after me: violence isn't the answer. Violence isn't the answer. Violence isn't the answer.
Did you see that, Twitter and Facebook? I'm saying violence isn't the answer. Violence is wrong. We shouldn't hit people with our cars.
But nor should we hit cars with people.
Let's just say, if I knew this lady driving this car, I may or may not might buy her a glass of Chardonnay. She looks like maybe the type. I'm a Pinot Grigio gal myself, but to each her own.
Violence isn't the answer.
In the words of someone else I work with who watched the same video you did "that was a little love bump. A 'hey, don't do that again'" reminder. Roads are for cars. Roads are not for peaceful protesters jumping on ladies' SUVs like a re-enactment of Rise of Planet of the Apes.
Also, Lady Speedracer here was a lone female fighting off what could be seen as the patriarchy. Where are my fellow ladies uniting against fighting the masculine powers at be?
Violence isn't the answer.
Never mind the George Floyd murder "incident" happened in Minneapolis, and the monkey man who wasn't Cesar but the mean-looking one hopped on her car in Denver. If there's a reason to run to the streets to break things, let it be so, right? So then if it's okay for these jerks to run about town causing mayhem, then under the same rules, what's so wrong with my sister from another mister delivering a little love tap to the street patriarchy?
I'm just asking questions. I'm not taking sides, per se.
Violence isn't the answer.
Pedestrians: stay out of the streets. Drivers: hitting people is wrong. But it's a little murky if the people hit you first. Is all I'm saying.

May 29, 2020 at 03:28PM - Courtney Kirchoff
Rioters Attack Female Driver. She Drives Through Them, then Turns Back to Hit Them Again
Click the headline to read the full report at Louder With Crowder